ISLAND ARC (GUAVA HABANERO BEEF JERKY)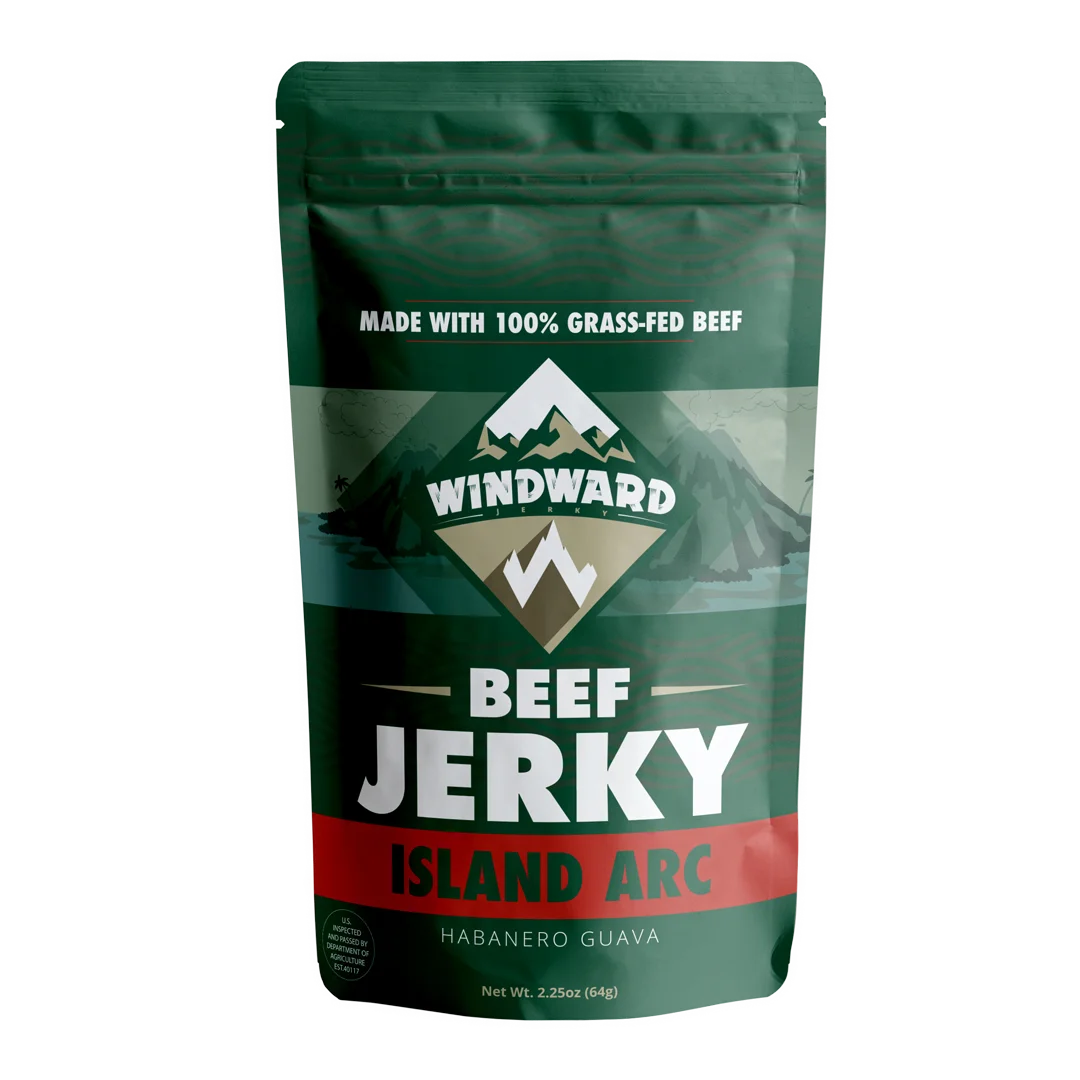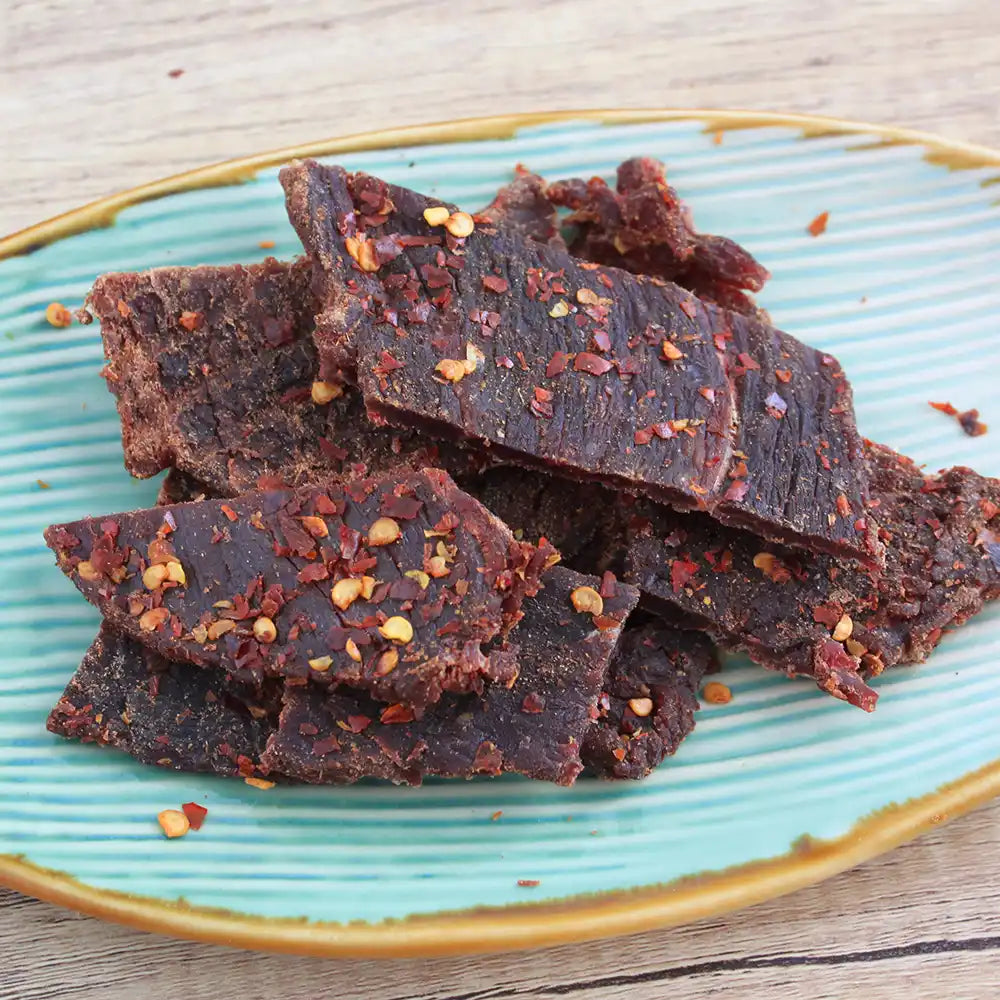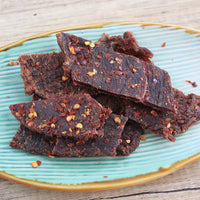 ISLAND ARC (GUAVA HABANERO BEEF JERKY)
One for the spice lovers of the world. Made with habanero and guava, the perfect tropical sweet and spicy pairing. Beautifully complex, wonderfully spicy, and always leaving you searching for more. 
We're confident you'll love our grass-fed beef jerky but if you don't like any of the flavors on first-purchase, then let us know and we'll refund the product price. No questions asked. *Excludes shipping.
At Windward we guarantee a shelf-life of one year for our beef jerky. We use all-natural preservatives of vinegar powder and celery powder in our jerky. We never use unnatural ingredients in our bags. There is always the possibility in a bag getting torn or having a hole in it, which could result in bad or moldy jerky when you open it - if this is ever an issue please let us know and we will gladly send a new bag.
GALVANIZE YOUR TASTE BUDS
Guava: A fruit of the tropics; sweet and unique.
Habanero: A pepper of demons; fiery and unforgiving.
Island Arc is their culmination. A constant fluctuation of sweet and spicy on the taste buds, like volcanic rock rising through the cold, dark sea. This flavor will leave you wondering the mysteries of the open ocean, the constant rise and fall of what is, and what is not. Beautifully complex, wonderfully spicy, and always leaving you searching for more. Island Arc is our story.
100% GRASS-FED BEEF
Grass-fed beef is higher in Omega-3 fatty acids, a crucial part to a healthy diet that can reduce the risk of heart disease.
NO ADDED HORMONES
Our beef jerky is naturally lower in total fat, and doesn't contain any antibiotics or growth hormones.
ALL NATURAL INGREDIENTS
From guava juice to soy sauce and olive oil, we use only the highest quality ingredients in our marinades. No artificial ingredients – minimally processed.
NO ADDED NITRATES
No nitrates or nitrites except those naturally occurring in sea salt and celery powder.
GLUTEN FREE
Alaka'i uses gluten free soy sauce made with only water, soybeans, salt, and alcohol.
REGENERATIVELY SOURCED
We only source cattle that are pasture-raised on regeneratively maintained land. This process is more beneficial for the environment by increasing forage growth, sequestering carbon in the ground, and increasing biodiversity. Responsible beef for a more sustainable climate - eat less, but eat better.
Looking back at fond memories

Many years ago, on one of my family's yearly trips back to the islands, I stumbled across a pulled pork sandwich with sweet Maui onions and topped with guava barbecue sauce. It was sublime.

When we think of jerky here at Windward, we see opportunities to tell stories. Oftentimes, fond memories revolve around good company and good food. We tend to remember the way things smell, the way things taste, and the vibes of the moment. Island Arc was born from this retrospection.
Mmmmmm guava

Guava, for me, is one of those flavors that instantly takes me back to my childhood. I have fond memories of many, many breakfasts that consisted of rice, scrambled eggs, spam (or Portuguese sausage) and a big glass of guava juice. If I was lucky then there would be some papaya as well. These memories, of a simple breakfast to start the day, have stood the test of time. 
Story through beef jerky

So as we thought about what our second flavor would be, we didn't have to look far. We made a few changes to a guava barbecue sauce we recreated many years ago, added a little habanero and that was that. A flavor different from almost any jerky on the market, but all too familiar and loved by us. A flavor built from fond memories. 

Ultimately, we look at jerky as many look at a photograph. It can be kept for long periods of time but has the ability to transport one back to a certain moment in time. When it's all said and done we'd love to be able to look back on our company and think fondly of the stories we've told through our flavors. Whoever you are, wherever you come from, we hope you make us a part of your story.