ALAKA'I (ISLAND TERIYAKI BEEF JERKY)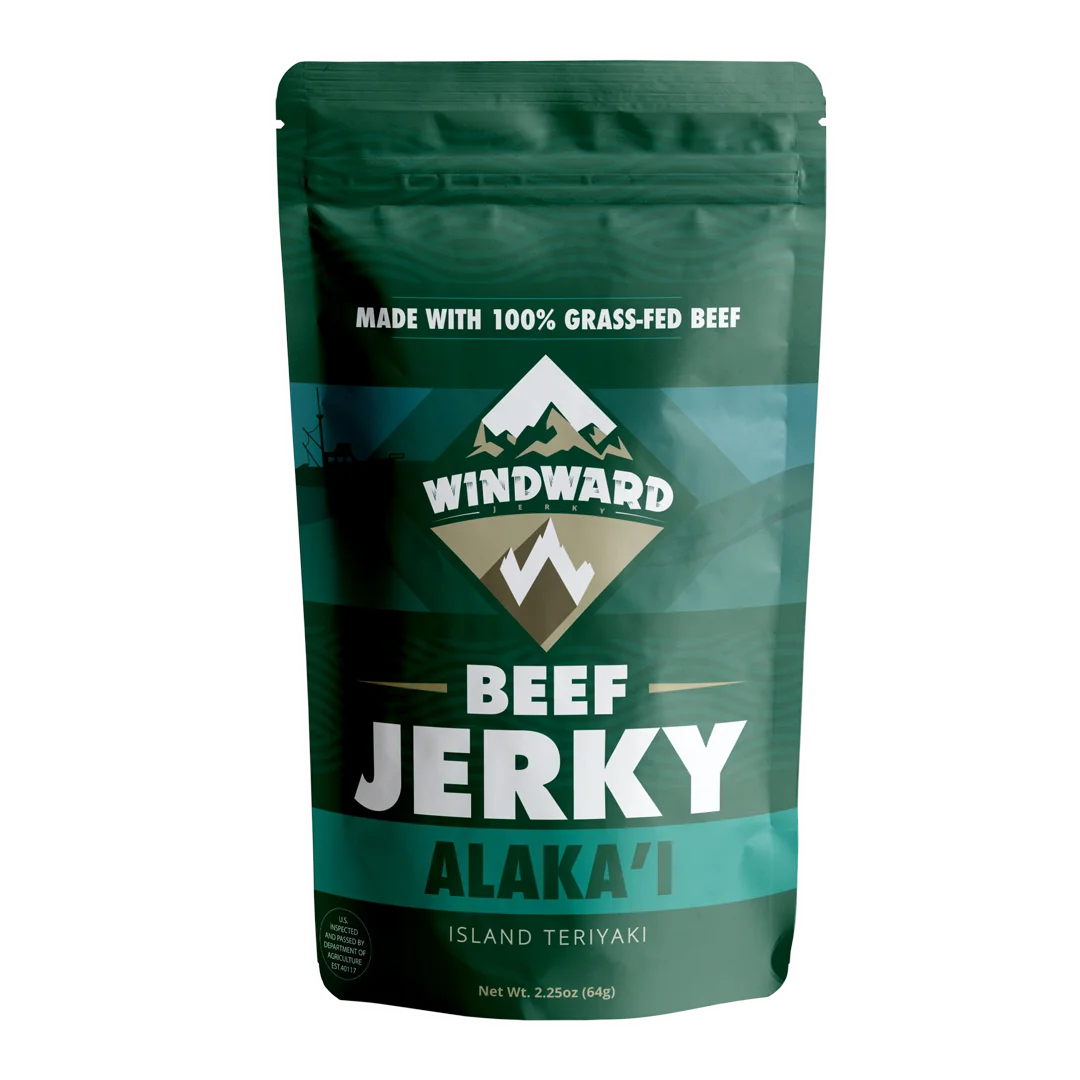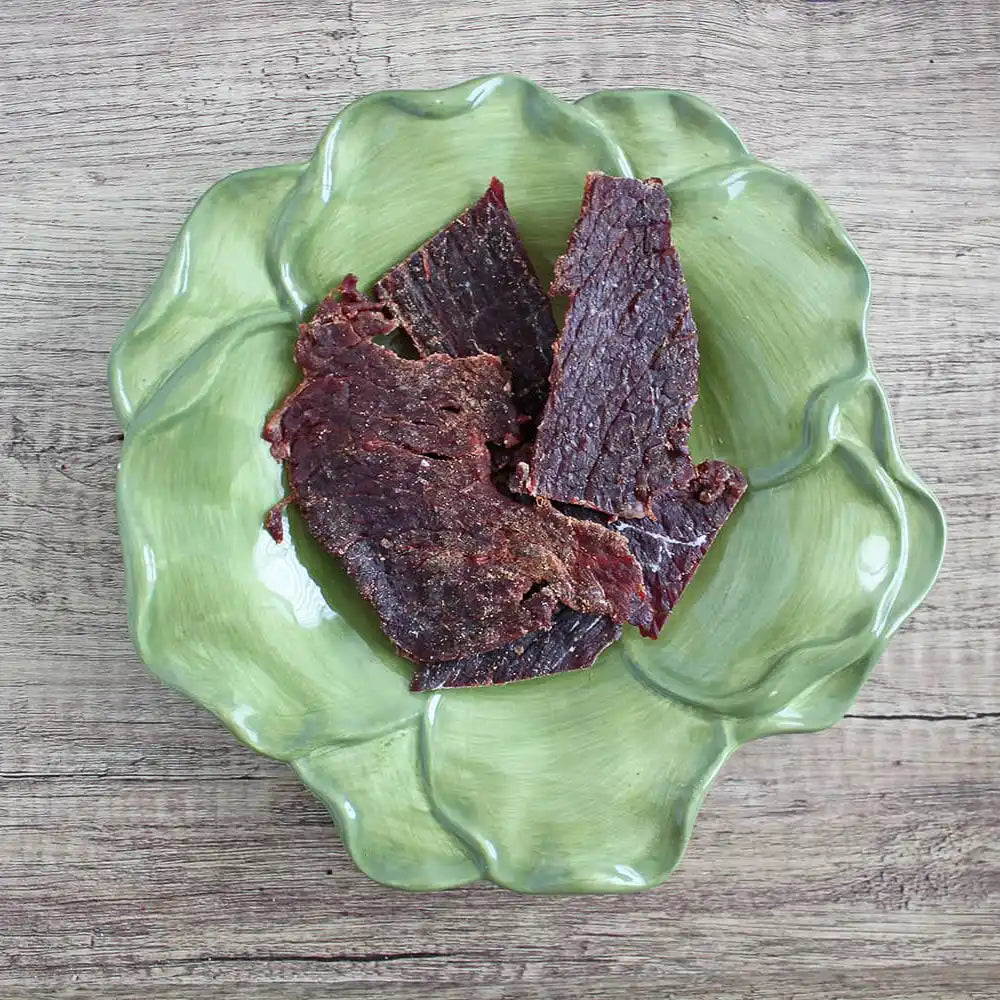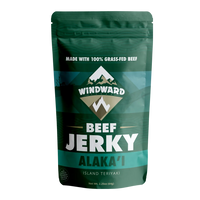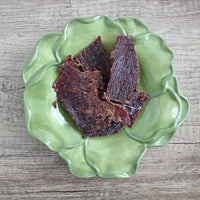 ALAKA'I (ISLAND TERIYAKI BEEF JERKY)
A family Hawaiian marinade passed through generations. Highlights ginger, soy, garlic, and pineapple with a hint of sweet-salty umami.

We're confident you'll love our grass-fed beef jerky but if you don't like any of the flavors on first-purchase, then let us know and we'll refund the product price. No questions asked. *Excludes shipping.
At Windward we guarantee a shelf-life of one year for our beef jerky. We use all-natural preservatives of vinegar powder and celery powder in our jerky. We never use unnatural ingredients in our bags. There is always the possibility in a bag getting torn or having a hole in it, which could result in bad or moldy jerky when you open it - if this is ever an issue please let us know and we will gladly send a new bag.
ALAKA'I: TO LEAD
Everything, and everyone, has a story. Our story begins here. Alaka'i (Ah-la-KAA-ee). In Hawaiian it means "leader" - to lead with good example. When I was young my grandparents, both from the islands, inspired my love for food. From them I learned to cook. From them I learned my culture and place. The contents of this package contain our family teriyaki recipe. Alaka'i, the name of my grandfather's fishing boat, will open your eyes and lead you to true island flavor. Alaka'i stands tall in the face of the wind, a recipe that hasn't changed in our family for generations. Alaka'i is our story.
100% GRASS-FED BEEF
Grass-fed beef is higher in Omega-3 fatty acids, a crucial part to a healthy diet that can reduce the risk of heart disease.
NO ADDED HORMONES
Our beef jerky is naturally lower in total fat, and doesn't contain any antibiotics or growth hormones.
ALL NATURAL INGREDIENTS
From guava juice to soy sauce and olive oil, we only use the highest quality ingredients in our marinades. No artificial ingredients – minimally processed.
NO ADDED NITRATES
No nitrates or nitrites except those naturally occurring in sea salt and celery powder.
GLUTEN FREE
Alaka'i uses gluten free soy sauce made with only water, soybeans, salt, and alcohol.
REGENERATIVELY SOURCED
We only source cattle that are pasture-raised on regeneratively maintained land. This process is more beneficial for the environment by increasing forage growth, sequestering carbon in the ground, and increasing biodiversity. Responsible beef for a more sustainable climate - eat less, but eat better.
A message from Steven

Windward wouldn't be a company without Alaka'i. When we first started researching the industry, everything was predicated on the fact that we already had a family teriyaki recipe in our back pocket that didn't need any tweaking or updating. So going from idea to first test-run only took two days to convince Anthony to get on board. From there we made batch after batch to sell to family and friends. It's crazy how many people asked for it. This eventually turned into friends-of-friends wanting jerky and we knew we were on to something special.
A message from Anthony

I tried Alaka'i for the first time about two days after Steven first floated around the idea of getting into the beef jerky business. Starting a beef jerky company was not something we were too excited about yet; it was merely an idea without any legs. All of this changed when Steven made the first homemade batch of Alaka'i. He pretty much nailed it on his first try and made some of the best beef jerky I had ever tried in my life. I knew right away that we had something special.

I always struggle to pick my favorite Windward Jerky flavor because I genuinely love them all. However, Alakai is by far my favorite flavor from a creative standpoint. We have always been big craft beer enthusiasts. We wanted to establish our brand by creating flavors with great artwork, creative names, and interesting backstories. These are concepts we borrowed from our favorite craft beers and it all started with Alakai, a story about real people and real traditions. It is a type of story I hope we can continue to tell in future releases.
A message from Amp

Man, where do I begin? As long as i can remember, my grandfather would always make his famous teriyaki steak for us to eat. It could be any day of the week, any holiday of the year, and any family gathering. Some of my fondest memories of my grandparents were standing in the kitchen getting plates ready, or standing outside next to the grill watching my grandfather cook up the meat. For myself and Steven, we were taught that food is what brings people together, and keeps people happy. With that, we always took the kitchen seriously; it was our playground as kids.

When Steven and I were young, we knew food was something we wanted to be part of in the future as adults. We would always talk about owning a restaurant together and becoming extremely successful. It wasn't too many years afterwards that Steven had the brilliant idea of turning our grandfathers teriyaki family recipe into beef jerky. Next thing you know, BOOM, we have our very first flavor... Alaka'i. It was our way of paying homage to our grandparents and telling everyone our story of family, food, and culture. Alaka'i is stamped with our youth, every time I take a bite it takes me back to my best household memories.